Wedding Belles
Morning, everyone! Hope everybody is having a great day. I've never wanted less to be at work than I do today, but nobody is paying me for sitting on my butt doing nothing at home yet, so I don't have much of a choice. It is rather beautiful outside, and I can see a window from where I sit at my job, so my mind is anywhere but on my work. These last couple of weeks have been so busy with the pre-moving stuff, I really don't know which end is up, I just know I like being at home doing nothing and being left alone (which never happens, but that's another story).
Bet you can't tell by the title of this post where this thing is going. Some time ago, shortly after Katrina Wilson's son Seth was born and Leon Hartman started hanging around the young Wilsons' home, Antonio Wilson and his fiancé, Aimee Andrews, decided it was time to move out and have a place to themselves finally (ever since she got engaged to Antonio, Aimee had been living with Mia Kay and Katrina as well). Aimee made most of the money when she lived with the rest of the family, but she didn't get to take it with her, so I had no qualms about giving them a "donation" to make the couple's new digs as nice as possible. The new house actually wound up being one of my favorites I've built, due in no small part I'm sure to the indoor hot tub room.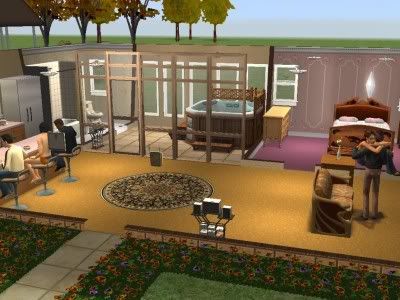 Aimee: "Anything is better than that dump we moved out of!"
The house was built from scratch, a practice I try to avoid most of the time because my own architectural and decorating sensibilities aren't the greatest. I mean, I know how to throw some furniture around and pick a wall paper and carpet color, but actually designing the structure those things go into is a bit tricky for me for some reason. Things went pretty well this time, though, I must have learned something from all those failed building attempts that I still forced my poor sims to live in. The neighbors really seemed to dig the place, and were quick to drop by for a dip in the indoor hot tub and several bowls full of food that was actually intended for Antonio and Aimee, but whatever…first come first serve I guess.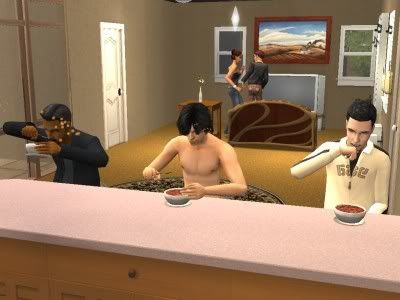 Tom: "Who's house is this again anyway?"
The couple didn't seem to mind having a bunch of guests hanging around the place making a mess of things, eating all the food, and generally taking up space. In a way, it was just like having Katrina and Mia Kay back again, and clearly Antonio and Aimee were already starting to miss having them around. Well, maybe. Aside from her parents, Clarence and Amy, the Wilsons were the closest thing Aimee ever had to family, with the exception of Antonio, who we hope she has no "brotherly" feelings for. Not having any other full time family members in the house meant more time for doing things together alone - things like Aimee barbecuing while Antonio reclined on the swing looking bored.



Antonio: "How much longer on this ribs, babe, I'm exhausted?!"
In theory, the whole idea of having a hot tub indoors seemed like a great one. Put into practice, a few problems seemed to arise. For starters, with the hot tub inside, most of the time anyone got out, they left a sloppy puddle that needed to be cleaned up. Another problem was the fact that visiting sims have a tendency to stick around in the hot tub all night long, which doesn't matter so much when the hot tub is outside and the guests can be ignored by those inside the house, but is a whole different story when the hot tub is indoors. Aimee and Antonio noticed this, and tried the not-so subtle hint of turning out all the indoor lights, but the visitors mistook this for an effort to create some sort of relaxing mood…



Tom: "I sure did need this soak - I've got a serious case of tennis elbow going on!"
One down side to moving to a new house was the fact that Antonio and Aimee only had access to the clothes they were wearing when they moved. Granted, the only alternate outfits Aimee had access to were the clothes she'd taken when she moved out of her parents' house and whatever Katrina and Mia Kay owned, but at least that was something. With a decided lack of other things to do, Aimee decided it was time to go out and buy a bunch of new clothes that she would probably never wear (certain sims of mine own dozens of shirts, multiple pairs of paints, and numerous outfits, yet never change their clothes). The shopping experience itself was half the fun for Aimee, though, especially when she decided to shop in her swimwear.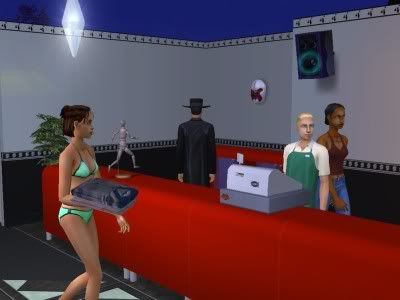 Aimee: "Yeah, my one other outfit was dirty..."
Antonio was starting to miss the old gang a bit. Aimee was just friends with Katrina and Mia Kay, but if you recall, Antonio is Katrina's uncle, so there was something of a family tie there. Thankfully, due to her predictable schedule of either being at home doing nothing or working at Radio Shock, Antonio didn't have any trouble finding her. They stood around and chatted about old times like the time Mia Kay accidentally killed Lawrence Madrox and the time when everyone though Homie D. Klown was her baby's father. It's a good thing Amy Andrews is Katrina's boss, because Amy is nice enough not to care about Katrina standing around chatting with Antonio or Leon or whoever else while still on the clock. If only we all had it that easy.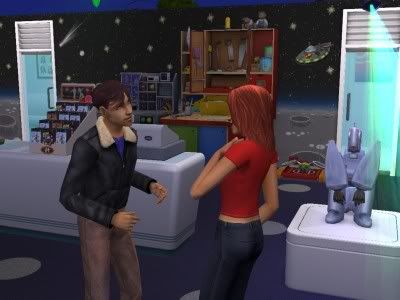 Katrina: "What have I been doing? Oh, the usual…absolutely nothing!"
Well, Antonio and Aimee had come for reasons other than shooting the everyday breeze and shopping for robots (although robots were purchased). It turns out, after what seemed like an eternity, Antonio and Aimee had decided the time had finally come to actually tie the knot instead of just staying engaged forever. Katrina and Mia Kay were the first to find out about the upcoming wedding, and Mia Kay seemed particularly excited about it, since she'd never been to one (she was at school during Marty and Kitty's wedding when she lived at the original Wilson house, and wasn't born when her parents had their "secret wedding" next to the arcade machines).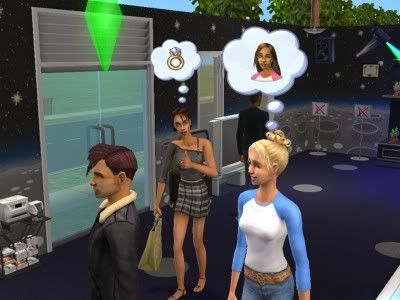 Mia Kay: "Shouldn't she have told her mom before she told us?"
Well, there seemed very little point in wasting time doing a lot of planning prior to the wedding. The great thing about the sim world is once something is purchased, there's no annoying wait for it to arrive, making the set up for the wedding ridiculously easy. The guest list was a little more complicated, but not much. Antonio invited his sister and brother-in-law, Kitty and Marty, and of course Katrina and Mia Kay, and his good buddy Austyn Strange. Aimee invited her parents, Clarence and Amy, and Vyn Andrews (formerly Daniels), though her brother and Vyn's husband, Aiden, was strangely absent.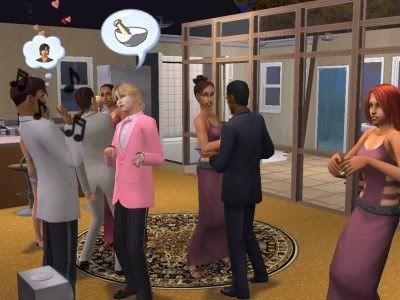 Austyn: "So, are you ready to mix it up?"
People say that weddings are a great place to meet and hook up with a date, but that was definitely not the case at the Wilson/Andrews wedding. Most of the attendees were either related or involved with someone else, it seems Austyn was the only single guy present, and he's no Owen Wilson from "Wedding Crashers". Anyway, the initial phase of the wedding went off without a hitch (no pun intended), and Antonio and Aimee were finally wed under the moonlight in their somewhat cramped back yard. It had been a long time coming, although nobody can boast a longer wait than Kammy Wilson waiting for that @#$% Kevin to finally pop the question.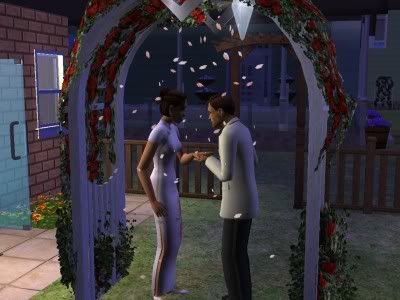 Antonio: "I can't believe those roses are losing their petals already! What a rip-off!"
At a lot of the weddings that have taken place since the TS2 era, a bunch of the guests have tried to run off right after the ceremony without even sticking around to party, but that didn't seem to be a problem this time around. Maybe it's because Antonio and Aimee are so well loved by everyone…or maybe it was simply the lure of the indoor hot tub. Whatever the case, the place was hoppin' during the reception, and everyone stuck around to make sure they got their share of the free booze and a chance to toast the happy couple (while the happy couple just got toasted). I just can't figure out why in the pic below, it looks like Clarence and Antonio are standing arm in arm - maybe a little overly friendly behavior inspired by the influx of booze.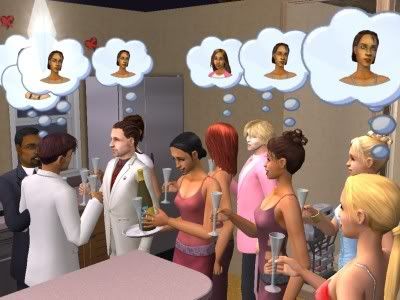 Katrina seems to be toasting the wrong Amy...
Of all the sim weddings that have taken place in the Monkeesim neighborhood, this one turned out to be the one that felt the most like a wedding. Usually, the sims either get married in private and skip the guest part entirely, or guests are invited and try to take off right after the ceremony, or they stick around afterward looking bored. Not this time, though - everyone seemed to be having a wild time, and the room was alive with people chattering and attempting to shake it out on the dance floor (emphasis on the "attempting" part) and generally just being crazy. Meanwhile, Antonio and Aimee were enjoying a more reserved sort of fun, sharing a slow dance together, the first I think they've ever had together.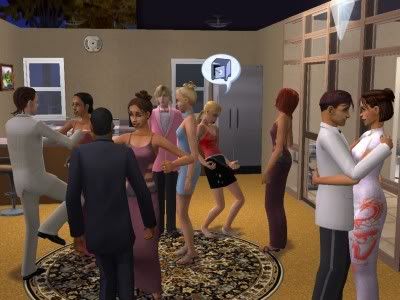 Vyn: "So anyway, there I was, locked inside this safe…"
Well, all good things must come to an end, and it wasn't long before things started to die down a bit and folks started making excuses to leave. Eventually, the black limo showed up to take the couple on what I like to call the "magical mystery ride", thus named because it's never fully explained where the couples that get in the limo go or what they do (I don't know if it's supposed to be a trip around the block or the world's shortest honeymoon or what). People really started to get the hint when the happy couple took off that maybe it was time for them to do the same (nobody wanted to be around when they got back, in case help was needed cleaning up).



Antonio: "I expected Drew Carrey to get out when the limo pulled up!"
Whatever they were actually off doing, Antonio and Aimee weren't ready to turn in just yet when they got back (despite the fact that the sun was starting to come up). They decided the perfect end to their more or less perfect day would be to run out and grab an early morning bite to eat at Kitty's Korner, since Kitty had been nice enough to show up at the wedding (we can only imagine how badly Kitty herself was dragging, having been at the wedding party so late). Of course, if Kitty wanted to be really nice, she would have offered some sort of discount for the newlyweds, but that didn't happen. Lacking the brain power to pick something from the menu themselves, the couple ordered the chef's special (which usually turns out to be a burned toaster pastry).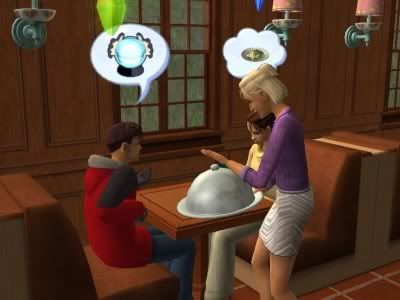 Antonio: "With my crystal ball I have foreseen…eggs Benedict!"
Well, there you have it - after what seemed to be a really long wait for Aimee, she and Antonio finally tied the knot. Of course, since they'd already been living on their own in the new house for a bit, not much changed besides Aimee's last name, adding yet another Wilson to the already huge number living in the neighborhood (second only to the number of Hartmans living in town). After their little post-wedding day breakfast, Antonio wandered off to go find the restroom. When I looked to see what Aimee was doing, I found her enjoying a baked Alaska she didn't even order with a ninja.



Aimee: "Doesn't that mask get soaked when you drink through it?"
Well, that's a wrap for now, kids! My computer is currently in the lovely state of Nebraska, and basically, I'm not at the moment. I do have material for another post, though, after which we'll be experiencing another "break" from the action here for a while till things get settled (I know, I don't like them either). Next up here, we'll be giving the traditional Monkeesim residents a break as we look in on an entirely different neighborhood, the frightening land of "normal people". Join us next time for our semi-final post, "The Pretty People". See you then!